We are delighted and proud to share with you SelfDesign Learning Foundation's latest Community Report, a record of our achievements and activities in 2021.
Download the 2021 SelfDesign Community Report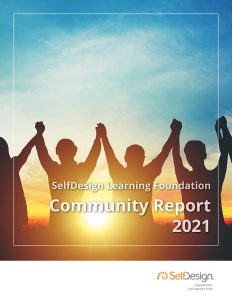 The report highlights our ongoing commitment to our guiding philosophy, vision, mission, principles and values – and to each other within the SelfDesign community. It outlines our accomplishments over 2021, including the development and launch of our new program, HomeLearners Network, our continued commitment to Indigenous education and towards reconciliation, and our ongoing work towards sustainability. In addition, we launched new learner offerings, continued engaging our learners and families, and received three commendations from BC Ministry of Education inspectors.
These are accomplishments the entire SelfDesign community can all be proud of.
It is thanks to the dedication of our families, learners, contractors, board members and supporters – in short, to you, our community members – that SelfDesign is able to share our accomplishments and activities in the 2021 Community Report.