Lori Bender was skeptical when deciding whether or not to put her kids into homeschool. Like many others, she felt insecure in her ability and unsure of what her children were supposed to be learning for their age groups. It caused her to question whether homeschooling would be the right decision for her family.
Luckily, a friend with an older son had taken the leap, giving Lori the opportunity to observe and ask questions before making her own decision. She dove into homeschooling shortly after.
Years later, she's still overjoyed with her choice.
"I chose home learning so I could spend the time with my kids," Lori says. "While that was mostly the reason at the beginning, it also came down to being a bigger part of their lives and watching them grow. I wanted to continue that, and I felt it was my job to do that if I could."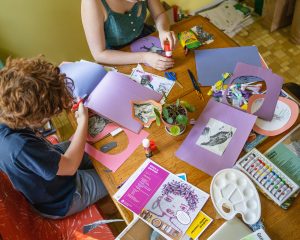 It's not a far stretch to say that learning styles can be as dynamic as kids. They're always different and ever changing. Some kids learn best by crafting thoughtfully designed pieces of art, while others through storytelling or movement. Some learn best through reading and writing, while others through watching and listening. Some may be better suited to one learning style when it comes to math, but a combination of others when it comes to history or other subjects.
Lori found the act of discovering these unique styles very rewarding.
"I started to notice the ways that they would learn more than what they were learning in their curriculum," she says. "That was part of my journey, watching the 'how' and not the 'if they were' or 'if they weren't.' It's why I started."
Lori's spouse, who was working as support staff in a high school at the time, had expressed the lack of support he felt students were getting in such a diluted setting. The couple found that when their kids had the opportunity to learn from home, Lori could give one-on-one support at a level that was unattainable in the school system.
Not only did Lori get the joy of being their children's support system and discovering their unique learning styles and abilities, but she got to roll with them! She found that keeping her kids engaged became easier when their learning could involve a topic they loved.
"If my daughter loved Junie B. Jones, everything was Junie B. Jones," Lori says. "I would follow that theme, and I found as many things that could connect with Junie B Jones as possible. My son loved Lego, and so everything was Lego. Stories were Lego. Lots of math was done with Lego. That would keep them interested."
Just like every child has their own unique way of learning, every family has their own goals and ideologies. It was important to Lori to incorporate life skills and not just academic subjects.
"I wanted to focus on their skills getting out into the world," she says. "So if learning a particular skill meant needing to watch videos, or having face-to-face time with somebody to actually understand the skill set, we would do that. I think one of my biggest accomplishments was ensuring that they're able to research and freely figure things out for themselves."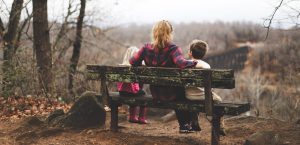 Imposter syndrome and fear of judgement were the biggest challenges that Lori faced, and are often the reasons why parents might be scared to incorporate home learning. She found solace in starting out with SelfDesign Learning Community (SDLC) with a curriculum, and using her learning consultant, who was there to help her feel more confident in her journey. SelfDesign Learning Community is among the largest online learning schools in British Columbia, Canada, that offers a personalized and flexible approach to education for approximately 2,000 learners from kindergarten to grade 12 each year.
"I started out using a curriculum because it just felt like I could follow along and not feel distracted," she says. "I could feel confident that they were learning something that they were supposed to, because I wasn't exactly aware of that. Our learning consultant was there with us from kindergarten through grade 9. It was great because I felt I had someone I was reporting to."
When her kids moved into high school, they moved into the SelfDesign Home Learning program for the remainder of their education. SelfDesign Home Learning offers an alternative to SelfDesign Learning Community by providing the opportunity for kids to learn independently at home. Lori enjoyed her journey and the homeschooling process so much that she eventually became the program's coordinator. She believes that education doesn't have to be static.
"It's okay to have a learning consultant," Lori says. "It's okay to go back to public school if need be. It's okay to make the journey shift and change and become what you want it to be. Because sometimes it evolves, and your child's sensibilities change. It's okay to shift things up and try something new. In the end, your child is going to become an adult and they're going to be okay. I really believe that, because if they have you as a parent, they'll do just fine."
Whether you've taken the leap into home learning or your kids attend a brick-and-mortar school… check out HomeLearners Network. It's an online platform where kids and teens, aged 5–17, can explore their unique interests through At Home Activities that are fun and interactive and learn traits like empathy, self-esteem, problem-solving and so much more. Plus, they have a ton of fun while they do it. Kids can do Realtime or Anytime At Home Activities (AHAs) together with your family, solo or with their friends, and they're supported by our trusted and passionate Guides (aka B.C. certified educators).
Check it out today, and take home learning to a whole new level at www.homelearnersnetwork.ca.