In August 2021, Lori Bender became the new coordinator for SelfDesign Home Learning, our home-schooling option for families seeking even more independence than our kindergarten-to-grade 12 option, SelfDesign Learning Community. SelfDesign Home Learning is our most flexible learning option for families who wish to take on the responsibility for their child's education and are not concerned with BC Ministry of Education and Child Care requirements.
Lori has worked behind the scenes in different administration and support roles at SelfDesign for many years, where she has supported programs, offerings, learners, families, educators and other SelfDesign contractors. She is also the steward of Subscriptions offerings, the suite of online learning subscriptions that we make available to learners free of charge each learning year. She is the server administrator for SelfDesign Learning Community's popular Minecraft group. In that role, she helps the group's educator–facilitator Michael (and her spouse) support the 60–100 SelfDesign learners who use the role-playing video-game platform each year to collectively negotiate how to design and build communities in SelfDesign's own Minecraft world. Previously, she moderated SelfDesign's Village of Conversations, a safe, secure online forum we offered until recently that served as a gathering place for our community members to connect with each other.
In addition, she is the parent of two learners who, at different times, chose SelfDesign Learning Community and SelfDesign Home Learning for their learning journeys and have since gone on to their adult lives.
With that diversity of experience with SelfDesign has come considerable insight. In this interview, Lori talks about her SelfDesign experience and shares some of the insights she has gained from it. We also learn more about Lori herself.
The interview has been edited for length and clarity.
SelfDesign (SD): What was your journey to SelfDesign?
Lori: I have a one-year certificate in Horticulture and took a year in college to do general courses, including psychology, which is a subject that fascinates me. I love computers and learned on my own how to work with communities online, as there was no such thing when I started. My past employment includes a horticulture adventure in a wholesale plant nursery, four or so years with a large, city daycare, and then self employment with my own daycare at home when I had young children.
SD: What brought you to SelfDesign?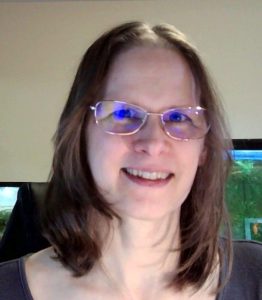 Lori: A wonderful friend brought me to SelfDesign. She said that what I was doing with my children with home schooling was very similar to what SelfDesign does in their educational philosophy. Having an educator to be that bridge between my children and the BC Ministry of Education and Child Care seemed like the most supportive choice to make.
I have been with SelfDesign since about 2006. Our learning consultant was incredible, in keeping me on track and giving the support I needed in asking the questions so that I could observe and reflect my children's learning back to her.
I started working for SelfDesign around 2008 in the Village of Conversations.
SD: What do you love most about working with SelfDesign?
Lori: I love working with kindred spirits in SelfDesign online. They have the same passion as I do, in that they love to work with families who are educating their children at home. As the SelfDesign Home Learning Coordinator, I am able to connect with the Principal Team and the Subscriptions Team lead, Darrell Letourneau.
I love working online from home, and I enjoy the connective moments with families that I have in doing so.
SD: What are some of the best experiences you've had working with SelfDesign?
Lori: I have so many moments of joy working with my colleagues, but my best experience comes in the form of something more general. I can freely ask questions and am always received with kindness. I can question my roles and seek encouragement or advice, and there is always someone with a supportive thought that empowers me further to keep learning.
I have become better at who I am and what I do because of those I work with in SelfDesign.
SD: What does your new role with SelfDesign Home Learning entail?
Lori: I provide registration coordination between families and SelfDesign, working with the Enrolment and Principal teams for guidance. I also provide online support to our Home Learning families who would like more resource suggestions, and I create newsletters with information pertaining to Home Learning–registered families to encourage them.
SD: What key tips would you share with SelfDesign Home Learning learners and families to help them make the most of their home-learning experience?
Lori: First of all, be sure that the registration-only, "home school" experience is what you want. If you need support from a learning consultant or are hoping for funding and courses to be provided, then SelfDesign Home Learning may not be the route you want to go, as those two aspects of the SelfDesign Learning Community program aren't offered to learners registered with the SelfDesign Home Learning.
Secondly, find your people. Those who are seasoned home learning families can greatly support others who are new. The B.C. Home Educators' Association can be a valuable resource in finding groups of people who live in your area.
And third, enjoy the time you have with your children, no matter how you are educating them. There is always time to learn as adults the things that children may have missed in gaps growing up. There is never a time to replace the moments of joy and engagement between a child and their parents and caregivers. It goes by so fast, and when it's done you will miss it.
SD: Based on your experience as a parent of former learners who were enrolled in SelfDesign Learning Community and SelfDesign Home Learning at different times during their school years, what advice would you share with families who are not sure which program would best suit their child?
Lori: My children learned freely up to grades 2 and 4, went into SelfDesign Learning Community up to grade 9 each, and then became registered home learners for their high school years. They had no desire for Dogwoods in their educational paths.
As a home-schooling option, SelfDesign Home Learning does not lead to a Dogwood Diploma, and because of this, enrolling in university or some other post-secondary opportunities after high school can be challenging for home-schooled learners. There are ways for home-schooled learners to qualify for college or university entrance, but they typically require additional research and a different approach.
Therefore, I would recommend that SelfDesign Home Learning families be sure that they and their children do not want or need a Dogwood Diploma [B.C. Certificate of Graduation] at the end of their high school years. In short, ask the questions you need to ask to prepare your child for the option of obtaining the diploma. The way grades 10 to 12 are set up in SelfDesign Learning Community supports this path to completion, so if the diploma is important to your family, I recommend checking out the SelfDesign Learning Community full-time program beginning in grade 9 to support that goal.
SD: What are your passions and interests outside of work?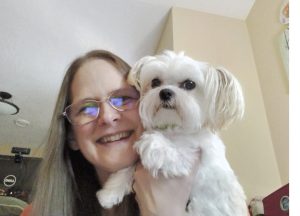 Lori: I love my family and my pets. I'm a homebody. I love my crafts, art, D&D [Dungeons and Dragons, a role-playing board game now also offered as an interactive online game], video games, and technology, and I am an avid listener to online fiction, audio books, movies and streams. Walks are great, but slow and steady with time to take pictures of the goodness of the world around me.
SD: What is your secret (or not-so-secret) superpower?
Lori: My secret superpower is that I have obsessive compulsive disorder [OCD]. I use it for the moments when I need to shine in my work, and with my art. Those times when I have to get things done with organization and determination are the days I have my OCD cape on.
I also make great soup!
---
Read more about SelfDesign Home Learning
Read about how learning can happen anywhere
Meet other people who work to support learning at SelfDesign