Gabe, an aspiring graphic designer and typographer, is starting with the Toronto Film School at Yorkville University this fall to continue his studies in graphic design and interactive media.
As a member of our Class of 2022, Gabe finished his SelfDesign journey in June with a Dogwood Diploma (B.C. Certificate of Graduation). He spent his grade 10 to 12 years exploring his passion for visual communications and developing his skill in combining text and graphics to communicate messages visually.
"SelfDesign really gave me the freedom and the space to explore my passions by interweaving them with SelfDesign's curriculum," the southern Vancouver Island-based learner says. "If I didn't have that opportunity, I may not have found what I'm passionate about so early on in life."
That approach is one of the strengths of our kindergarten to grade 12 program, says SelfDesign Chief Education Officer Nikki Kenyon.
"What really sets us apart," she says, "is that while learners follow the pathways that are common to every school in the province and indeed achieve their Dogwood or other certification, we take it further in SelfDesign and set them up for where they are headed next. That's the whole point. When you believe in lifelong learning, the goal isn't just to achieve a credential. It's actually to achieve the skills needed to continue to learn everywhere you go."
Gabe's SelfDesign journey
Gabe came to SelfDesign Learning Community, our kindergarten to grade 12 program, at the start of grade 8. Before that, he was an "unschooler," engaging in learner-directed informal learning through play, household responsibilities, personal interests and curiosity, travel, books, elective classes, family, mentors, and social interaction.
When his family moved to British Columbia from Quebec in 2013, he experimented with online schooling and, for one year, attended a brick-and-mortar school.
But it was at SelfDesign that he felt he found his place.
"I was excited to be studying completely online, and documenting my life and what I was learning through my experiences," he says. "So far, my favourite form of learning has been through SelfDesign's format."
Our approach to learner-centred learning draws on the same principles as unschooling, in that we believe learning happens everywhere and all the time, no matter what activity we are engaged in.
But unlike most unschooling programs, at SelfDesign, our learners and families are also supported by teams of BC certified educators. Our learning consultants work with our learners and families to develop personalized learning plans based on each learner's own interests, skills and abilities. They mentor and guide each learner and family as the learner works towards achieving the goals set out in their learning plan, and they track and assess the young person's learning, mapping it to the competencies set out by the BC Ministry of Education.
Gabe says, "I'm truly grateful and appreciative of all of the support that I received from the learning consultants and learning specialists throughout my years at SelfDesign."
Integrating interests and passions into his learning
At SelfDesign, Gabe says he enjoyed the format of the weekly learning challenges, the many opportunities to learn about Indigenous cultures, and how he was able to often explore current events through the challenges.
But it was being able to integrate his passions, interests, and goals into his learning and into the weekly and personal learning challenges that each of our grade 10 to 12 learners undertake that he appreciated most.
"During grade 10, I took on a personal project where I designed my own portfolio website," he says. "I was in frequent communication with my learning consultant, demonstrating new iterations of HTML/CSS code across two entirely different versions of my then-upcoming website. She always provided helpful feedback."
He also talked with a branding strategist for the project, someone who works with companies and organizations to help them develop goals and implement plans to improve the identification and preference of their brands by their clients and customers.
"They helped me upgrade and perfect what would essentially be the first public version of my website," Gabe says.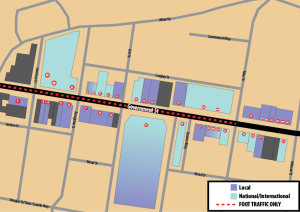 In grade 12, our learners work and present a capstone project that represents and encapsulates best what they learned over the course of grade 12. Gabe's capstone project emphasizes his love of graphics and lettering. It is a map of downtown Victoria's Government Street that he designed to help cruise ship tourists plan and visit shops in a hurry.
His SelfDesign explorations and learning projects should stand him in good stead as he continues his post-secondary learning journey at college. His long-term goal, he says, is to set up his own design company or run a type foundry to design the lettering used in computer programs and graphic design.
---
Learn more about paths to graduation at SelfDesign