The SelfDesign Enrolment Blog Series – Part 2
When families apply to enrol their children in SelfDesign Learning Community, two SelfDesign representatives they're very likely to talk to – possibly more than once – are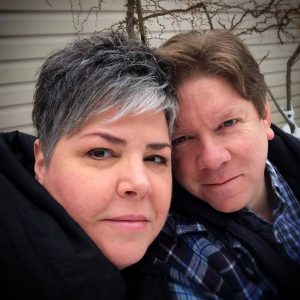 Michelle Quesnel-Tosney and Paul Tosney. Together, the duo, who are married, are SelfDesign Enrolment Team's frontline. They receive, review and process enrolment and re-enrolment applications for more than 2,000 learners every year. They help guide families through SelfDesign's enrolment process, answer their questions, and make enrolling in SelfDesign Learning Community as easy as possible for B.C. families.
As a publicly funded Group 1 Independent Online Learning School, the BC Ministry of Education requires that SelfDesign ensure each learner enrolled in its kindergarten to grade 12 online learning program meets ministry requirements. What this entails for SelfDesign – and for Michelle and Paul, in particular – is extensive documentation, highly detailed and accurate data entry into multiple databases, and generation of many reports.
With re-enrolment for SelfDesign's 2020/21 learning year now underway and enrolment for new SelfDesign learners about to open, we asked Michelle and Paul to tell us about their work, their journey to SelfDesign, and themselves.
The following responses have been edited for clarity and brevity.
SelfDesign (SD): Describe what you do at SelfDesign.
Michelle Quesnel-Tosney (MQT): Yikes. I will try to answer that in as few words as possible. I process all the enrolment applications and withdrawals. We have a large population – more than 2,000 learners. I enter and maintain data into our BC Ministry of Education database (MyEd BC) and the SelfDesign Learning Community's database. I request and collect all the incoming and outgoing family and school records. I create and maintain the student folders. I assist families with enrolment-related issues and questions, record requests, update their records, solve problems, and so on.
Paul Tosney (PT): Primarily, I take care of all the data submissions we make to the BC Ministry of Education and oversee the data collection aspects of enrolment. We have to make several data submissions to the ministry throughout the year – I collect the data from our ministry database, make sure the data are correct, and submit them.
On the enrolment side, I'm heavily involved in entering learner course data, so that learners' transcripts are up to date.
SD: What brought you to SelfDesign?
MQT: I started working at SelfDesign in 2015. Paul had been working for SelfDesign for several years, and I saw how he really enjoyed it, so when a posting came up that I was suited for, I applied.
PT: I started working part-time for the International School of the Kootenays (ISK) in 2008, which at that time was only grades 10-12. ISK then merged with SelfDesign, which was only kindergarten to grade 9, to eventually become the kindergarten-to-grade-12 SelfDesign we have today.
I obtained a degree in the U.K., via distance learning with the Open University, and trained as a teacher at night school. When I moved to Canada, I was looking for a distance learning teaching position.
When I applied for a part-time position to teach math at ISK, the role had already been filled, but they gave me a position looking after their learning management system. That job slowly expanded until I did many tasks, including teaching math and science.
SD: What do you love most about being on the SelfDesign Enrolment Team?
MQT: What I love most is that I get to work with Paul. We make a great team – we're like-minded, have the same work ethic, love helping people, and like keeping things organized and efficient.
I enjoy the rapidity of communicating with families, SelfDesign educators and contractors, and other people, no matter the distance between us. I love helping families and colleagues in a timely fashion so that they feel supported. Before I came to SelfDesign, I worked in a public school district, and I was always the go-to person. Everybody always came to me, because they knew they could count on me to help them out. I continue to do that at SelfDesign. I like people to be happy.
PT: The thing I like most is working with my wife. We think very much alike and make a great team when it comes to reviewing and handling applications for over 2,000 learners and all that entails. We have a great sense of team accomplishment when we get to the end of September and have all the correct data in place and ready to submit to the Ministry of Education.
SD: What are your passions and interests outside of work?
MQT: I have a lot of animals, and I love spending time with them. For a while, I was fostering them for an animal rescue, but I had a hard time parting with them. This is why I have so many animals, so I had to give that up.
I love movies. I am a creative person and love doing creative things – photography, drawing, and adult colouring. I love building things. My last project was an outdoor catio for my cats, which was fun. (They love it!) I love being in nature and taking in the sights, sounds and fresh air.
PT: In my spare time, I enjoy building scale models and watching movies. I also enjoy learning by doing online courses, usually about computer- or software-related subjects.
But my favourite activity is Friday pizza and movie night.
SD: What is your secret – or not-so-secret – superpower?
MQT: Captain Organizer is my name, and keeping things organized is my game. My superpower is being organized and efficient. I am a little obsessive-compulsive, so I like keeping things in order at all times. When you have to deal with as many learner records as I do, this is a good superpower to have. I am more helpful to others too, if I keep on top of things.
PT: Spreadsheets! I enjoy the challenge of drawing conclusions from the data we generate. I'm frequently asked for lists of things by people working elsewhere in SelfDesign, and I enjoy the challenge of finding and collating the information and passing it back for other teams to use.
SD: Is there anything else you would like to share?
MQT: I am grateful to be a part of a community that offers such a unique educational experience to all types of learners. I had nothing like this when I was growing up, so it is amazing to be a part of such a nurturing and supportive program.
PT: I make lots of phone calls to prospective families throughout the year. It's a good feeling when they really 'get' how SelfDesign works and decide they want to be part of it too.
And remember to check back with the SelfDesign Blog next week for part 3 in our series about enrolling at SelfDesign.