Cue lights, celebratory music and streamers…HomeLearners Network is here to provide families with At Home Activities (AHAs!) that help your kids and teens build relationships, pursue their passions and have a ton of fun.
HomeLearners Network is the latest program by SelfDesign Learning Foundation (SDLF)…so you can trust we are fueled by their 20 years of experience in providing home learning and resources to tens of thousands of kids.
That's right, SDLF runs the SelfDesign Learning Community, a distributed learning K-12 school in British Columbia, that follows the BC Ministry of Education curriculum and sees BC-certified educators work one-on-one with their learners and families. They also run SelfDesign Home Learning, a supportive place for parents who wish to homeschool their kids.
SelfDesign Learning Foundation launched HomeLearners Network for kids and teens, ages 5-17, in the fall of 2021 to complement these existing programs. Why? Because SDLF wanted to take their expertise in the online learning space, harness the incredible ideas of their certified educators and give kids and grown-ups what they long for….screen time that is full of off-screen creativity, interaction and connection.
Turning screen time into quality time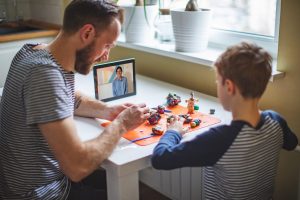 HomeLearners Network is an innovative and exciting online program that helps your kids or teens explore their unique interests with fun and engaging At Home Activities, led by passionate certified educators (aka Guides). Kids can do the activities at home, and either do them solo, with your family or their friends.
The activities are competency-based, so you can feel secure in knowing your kid is learning practical life skills and developing meaningful qualities like empathy, self-expression, money management, organization, collaboration and so much more.
We get it…parents like you are hungry to empower your kids to learn in innovative ways that are stable, adaptable and forward-thinking. We're also here to inject a major dose of fun and wonder.
For some of you, the thought of online learning and activities is a little scary. Some of you may not have had a great experience during the pandemic when your brick and mortar school transitioned to online classes, using a model not meant for the virtual realm. Or maybe you're a homeschool parent that is battling a war with screen time and are apprehensive about letting your kids spend even more time in front of a computer.
With HomeLearners Network, we are deeply conscious of these fears. We understand parents because most of us are parents. And we understand how to do learning at home right, because we've been doing it for over 20 years through SelfDesign.
Building relationships and uniting families IRL (In Real Life)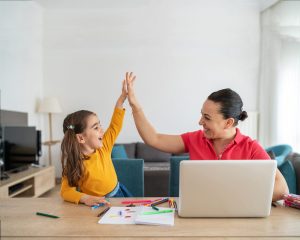 HomeLearners Network is not an electronic babysitter. In fact, we're transforming screen time into quality time. The computer is just a vessel, a tool, to open up a whole new world for your kids that is steeped in building relationships, uniting families and doing super fun activities IRL (In Real Life) that are teaching your kids the competencies they need in order for them to succeed as grownups.
Amber Papou is the CEO of SelfDesign Learning Foundation. According to her, HomeLearners Network was the logical next step for SelfDesign. Launching a program of this kind is built on a foundation of 20 years of successfully engaging learners at home and a code of values and set of philosophies that could be adapted to this new, fun and engaging platform.
"We designed HomeLearners Network in a way that honours the fact that learning for a child doesn't necessarily happen within constructed times, or by telling them what to learn," said Papou. "One of the main philosophies of SelfDesign is that learning happens all the time, it is ageless and there are no set boundaries of what it means to learn. With HomeLearners Network, we offer a whole array of topics, subjects and ideas in our activities that are meant to pique a kid's natural curiosity and expand their knowledge or understanding of something they're truly interested in."
Our activities are kid-centred and adhere to our belief that learning happens everywhere, in every moment, and learning is enriched and amplified through relationship and connection.
"Learning does not need to be boxed into a classroom, into times, or outcomes," said Papou. "Every kid is different and our goal with HomeLearners Network is to focus on fun activities that inspire and are built around stimulating a kid's sense of wonder; it's a bonus they'll also learn a lot, develop life skills and positive traits."
Breaking the mold in the world of online learning activities
Here at HomeLearners Network, our philosophy, the quality of our Guides (who are also BC-certified educators), and focus on relationships and competencies are what truly sets us apart.
"We are really focused on relationships," said Papou. "Relationships are meant to be built through our activities. We've purposely designed the program with a set number of Guides, so kids and families can develop relationships with them. Our activities are also designed to bring kids together, interact with one another and relate to each other in future activities as well."
It's our goal to first and foremost engage kids and teens in fun and inspiring activities, and to put parents' minds at ease that their kids are learning competencies that are universal and aligned with most curriculums. The bonus of having educators as our Guides means they know how to blend the world of fun and learning in a skillful way for your kid.
"There's no right or wrong and there's no end to the possibilities," said Papou. "Just because an activity has come to an end, doesn't mean it's over. Kids can continue to build on whatever it is they learned. Our activities are meant to be fun, be family-oriented and inclusive. We've built in lots of different types of support for participants who may be at different levels in terms of their learning, but also potential physical, emotional and intellectual differences."
Try HomeLearners Network FREE to see for yourself
Have we piqued your interest? Head on over to HomeLearners Network to check it out for yourself. We currently have two types of online learning activities:
Realtimes: live, educator-led learning activities on various topics that your kids can participate in and follow along online! Get creative in a one-time session (Single), dive deep into a fun topic over multiple days in a week (Camp), or take your time with an interesting theme over multiple sessions (Series).
Anytimes: self-guided learning activities that you can download and explore on your own time! With activities like Radical Rollercoaster, Egg Drop and Pendulum Painting, you and your kid can have a ton of fun on a schedule that suits your life.
With dozens of activities to choose from, there's something for every kid or teen.
From Getting Silly with Surrealism, Pixel Art and Drawing Mandalas to Building Board Games, Radical Roller Coaster and our infamous Egg Drop extravaganza…we promise to blow screen time out of the water with activities that expand your kid's mind and have them talking about it at the dinner table for weeks to come.
Try your first activity for FREE at www.homelearnersnetwork.ca, by using the code: First–FREE.