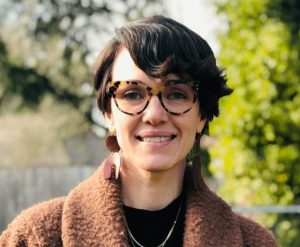 Verena Gibbs joined the SelfDesign® Learning Foundation Board of Directors in 2017 because she thought it would be a good way to support an organization that had given her so much earlier in her career.
"I'm very grateful to have worked with Brent Cameron, River Meyer, Kathleen Forsythe and Michael Maser while at Wondertree and SelfDesign between 2002 and 2009. The experience profoundly shifted my approach to education, learning and life! I'm so glad the organization continues to serve learners and families, and I'm happy to serve on the board supporting this work," she says.
Verena, who has since served as board chair beginning 2021, first joined the SelfDesign community in 2002. At that time, the organization was known as the Wondertree Foundation for Natural Learning. Brent was its principal and executive director. And the BC Ministry of Education and Child Care had only recently decided to pilot online schools in the province.
"I applied for a job as a learning consultant at Wondertree Learning Centre," Verena says. "In the interview, Brent and another learning consultant — well, mostly Brent — asked me questions. In particular, he asked me if I'd read a number of specific books, of which I had read absolutely none. And I thought, 'Oh, I'm not getting this job. I haven't read any of those books.' But they invited me back to facilitate an activity so that learners and parents could give input about me as a learning consultant and ask me questions. From that, they whittled the candidates for the position of learning consultant down to just two people. "So they took us camping with the whole Wondertree community."
[SelfDesign's recruitment process is much more streamlined these days.]
In the end, Verena was offered the role. What followed changed her professionally and personally, she says.
Transformative experience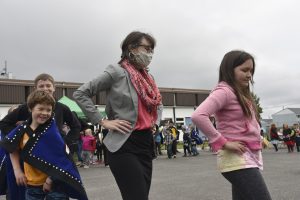 Over the next five years, she immersed herself in the organization's philosophy, beliefs, values and approach as a learning consultant. In that role, she supported learners as they explored their own interests and passions through the organization's unique learner-centred approach. With a master's degree in Integrated Studies, she was able to weave teachings from Indigenous knowledge, self-directed learning and living inquiry into her practice.
"The experience transformed the way I approach learning and learning systems," she says. "The gifts it gave me regarding my own personal awareness and personal mastery were incredible. It was, at times, infuriating and frustrating and chaotic and messy, and it was also beautiful and heartfelt and community-driven. I wouldn't say it's for everybody, but it was really, really important to me."
In 2007, she became vice principal for SelfDesign, helping Brent and then-principal Kathleen Forsythe grow and administer the program further. And two years later, in 2009, she and her family — her spouse, two daughters, and a dog — moved to Haida Gwaii, on the central coast.
The structure of SelfDesign itself was also changing. SelfDesign® Learning Foundation was being set up to be the parent organization to our kindergarten to grade 12 school, SelfDesign Learning Community, and our home-learning option, SelfDesign Home Learning.
"With SelfDesign Learning Community being online, I was invited to continue, but when we moved, I wanted to be part of a community in person," Verena says.
In Haida Gwaii, Verena became the principal of brick-and-mortar elementary schools in Port Clements and Masset. There, she applied the learnings she had gained at Wondertree and SelfDesign — the importance of relationship, communication and community — to her work in the public system, supporting educators, families and learning in that community for 12 years.
Applying SelfDesign philosophy more broadly… and on the Board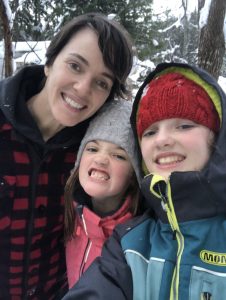 In 2021, Verena stepped out of public education and moved to Vancouver Island. She continues to volunteer on the SelfDesign board and also offers workshops for teachers and other members of the education community in B.C. She draws on compassionate systems leadership, a program developed out of the Massachusetts Institute of Technology to help educators and education leadership help students understand and respond mindfully and compassionately to the big, interconnected challenges facing the world.
"I'm offering coaching and workshops," she says. "I think a lot of educators in B.C. and beyond are struggling right now, and it kind of breaks my heart because, ultimately, those educators are showing up in their work and supporting students, and the effects of what they're going through are trickling down. So by helping support the wellbeing of educators as they work within their systems, I hope to also help students and learners."
It's an approach that she applies to her role on SelfDesign's board. As board chair, she works closely with other board members and with SelfDesign President and CEO Amber Papou. The role of a board for a not-for-profit organization in Canada, as SelfDesign is, is to provide oversight and governance to the organization and to support the CEO. That means watching for opportunities and risks in the larger environment — everything from pandemics and labour market issues to inflation — and setting high-level strategy, direction and priorities for the organization to develop and put into effect.
"I would describe the role of the board is to have our eyes up, and that of the folks in the organization is to have their eyes down, doing the work," Verena says. "And as the board, we work directly with the CEO. That's our responsibility — we hire, fire, and support the CEO — and everything else is her responsibility to manage. Our job is to make sure she has the support she needs and if there's anything we, as the board, can do at a high level.
But what really excites her is what might be next for SelfDesign.
"SelfDesign's programs are really solid, and we've got consistent, really great teams and families, and so I'm really curious about what's next," she says. "We've been a leader in this kind of education for a couple decades — what's the next stage for us? I don't have an attachment to what that will be — I just think the next stage of SelfDesign could be really exciting, and I'm excited to be part of the journey."
---
SelfDesign Learning Foundation is recruiting for its Board of Directors. [The application deadline is January 31, 2023.]
Find more information about this volunteer opportunity on our opportunities page.
Learn more about SelfDesign Learning Foundation's Board of Directors.
Learn more about our philosophy and approach to learning.