"I am a non-speaking person with autism, and I know the sky's the limit," Marty shared in a presentation prepared by his family last June with families, educators and other learners who attended SelfDesign Learning Community's Commencement Ceremony.
Marty had just graduated with his School Completion Certificate (formerly called the Evergreen diploma). It was the end of a 15-year journey with SelfDesign that saw him learn and grow despite severe learning barriers and find his passions, unique skills and amazing talent.
He also found a language he can express himself in easily.
A challenging beginning
Marty began with SelfDesign in 2007, a few months after his older sister Kaitlin started with us. Both children have severe learning challenges, and both have benefited enormously from SelfDesign's unique, inclusive, supportive and child-centred approach to learning.
We shared how Kaitlin and Marty learned to read in an earlier post. Like many kids with autism, the siblings' sensory systems have developed differently. Although Marty and his sister fully understand spoken and written English and Japanese, they are non-speaking and unable to converse easily. They can't tell you their name or phone number if they get lost, and they need 24/7 care.
They both also have motor dyspraxia, a condition that affects movement skills, motor planning and physical coordination.
A key piece in SelfDesign's inclusive approach to learning is that we create a support and learning system that is specific to each child. Learners like Marty and Kaitlin who use SelfDesign's support services each have an individual education plan (an "IEP") created just for them to identify and provide specialized support to help them meet their own learning goals. The IEP complements a learner's personalized learning plan, which guides the learning of each young person enrolled with SelfDesign Learning Community. Like the learning plan, the IEP is created in collaboration with family and caregivers, the learner and a B.C. certified educator to identify and support the learner's individual and unique needs.
"We figure out what that entire family–learner system needs in order to thrive," says SelfDesign Chief Learning Officer Nikki Kenyon. "We're really able to assess a need and provide resources to meet it in support of reaching educational goals. This model of putting the learner at the centre and figuring out how we can best support their growth is how we approach every learner – complex needs or not."
Identifying the musical spark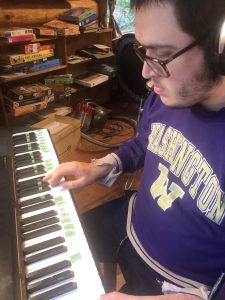 For Marty, that included identifying and working with his hidden but natural talent for music – a challenge when Marty cannot speak for himself.
"When Marty was very young, we had a keyboard with a song bank," Megumi says. "His therapist at the time thought he was 'stimming' [engaging in repetitive, self-stimulating behaviours] on the keyboard, but I noticed that he was looking at the tiny screen that was showing the fingering and that he was trying to play the music. It was "Greensleeves." That let me see that, instead of what others were calling stimming, he was actually self-teaching, which made me want to look for any form of music for him."
At the time, sister Kaitlin was still attending public school. Megumi saw a notice for a new music program called Singing English.
"I inquired because I wondered about accommodating non-speaking kids," Megumi says. "I thought both my kids were interested in music, but there were no avenues to explore that as they were both non-speaking. I was curious how the singing program would work when the child was non-verbal. I was looking for a program that my kids could try where they would be accepted for who they were."
Singing English is a specific learning application originally developed for non-English-speaking children attending public school in Vancouver. The program was developed by educator Dr. Fleurette Sweeney, who worked with others, including Kathleen Forsythe, who at the time was SelfDesign Learning Community's vice principal. (Dr. Sweeney was the Chair of the SelfDesign Learning Foundation board of directors from 2007–2014.)
Because of the nature of the song games used in the Singing English program and their use in learning, it was noticed that the same approach might work with children with autism.
Marty and sister Kaitlin attended the program's first series in late 2006. That was just before Megumi was told Kaitlin could not be supported at public school, prompting the desperate mother to seek out Kathleen and enrol Kaitlin, and then Marty, with SelfDesign.
But at Singing English, Fleurette observed both children's keen interest in music. Although neither child could sing, they participated in the song games, and they showed keen interest in the song maps that helped them to correlate sound to symbol.
"We have videos of Fleurette teaching musical ideas to each of them," Megumi says. "Fleurette particularly noticed that Marty, who often had high-pitched screams, also had perfect pitch, and she wondered how we could help him master his wonderful singing voice."
This significant educator introduced Marty to different ways of understanding musical sounds.
Pursuing music as learning and therapy
Once Marty was enrolled with SelfDesign, the family sought out further opportunities to support and develop his interest in music. In addition to the personalized learning and individual education plans we create based on each individual learner's need, we contract support providers such as occupational and movement therapists, speech and language pathologists, and other learning-support professionals and assistants to meet the needs of our learners who have special needs.
In Marty's case, many of those therapists and support providers worked with him through music.
"Over the early years in SelfDesign, he had programs in creative movements that used music to promote and learn body movements," Megumi says. "When we looked for special education assistants, we were often looking for those with music backgrounds so he could be introduced to a variety of activities."
Some of those assistants played guitar, some sang, and some were music therapists in training. One of these educators noticed Marty playing the keyboard on his own and asked if her partner, a music teacher, could help him to learn piano. At the time, Marty, aged 13, had not yet been able to engage in direct instruction easily with anyone due to his severe language challenges.
"The piano teacher was a jazz musician, and he taught Marty by ear to play jazz tunes," Megumi says. "For some reason, Marty fell in love with jazz and was able to play by ear extremely well. The teacher also wanted him to learn by reading music and introduced this to him, as well."
Talent revealed, and music as language
The piano teacher also played in a jazz band. He suggested that the family see if Marty was able to play with them. With their permission, the teacher set up a date for Marty to join the band in a practice session. Marty had just turned 15.
Those who attended last June's SelfDesign's Commencement Ceremony had the pleasure of seeing a video from that session. It shows Marty encountering a jazz band for the first time in his life, sitting at the piano and playing as if he had always done so, with almost perfect timing.
"We were all overwhelmed and knew that this raw talent needed development," Megumi says. "Marty cannot tell us what he thinks easily, but it was clear from his demeanour that music was his vehicle."
Today, 20-year-old Mary plays several instruments. His sense of timing, rhythm, pitch and musicality is well-developed and intuitive. He may have difficulties communicating through speech, but those difficulties disappear when he plays an instrument.
"Music is my language" he shared at Commencement. "This is my most important mode of expression. Music is the language that I speak and understand."
"I've been Marty's learning consultant for 14 years," now former SelfDesign educator, Executive Director and principal Kathleen says. In that time, she says, she met with Marty and Megumi online and occasionally in person more than 450 times to reflect together on the learning Marty had done week by week. "It was when the music learning began that Marty truly began to emerge from his inner world."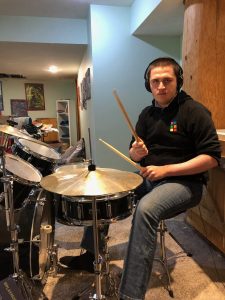 Marty now plays drums, guitar and piano and ably reads scores for those instruments. The family's living room contains three pianos and a full drum set.
He plays both classical and jazz tunes.
Regular dance lessons are helping him overcome his motor apraxia to move his body under his own command. He swims, skates and does gymnastics, too.
Marty also enjoys travelling and studying new languages and exploring different cultures. For his final grade 12 project, he explored his Japanese heritage. Cooking and trying different cuisines is another of Marty's interests.
And now that the family has found a music teacher who is working with Marty to express his music through singing, he is learning to use his voice.
"What is remarkable is that he is able to sing, read lyrics, read and sing notation and remember songs, even though he cannot directly communicate in language," Megumi says.
Marty still has perfect pitch – just as Fleurette noticed 16 years ago – and his voice can range five octaves. He sings many genres, and can play the piano while singing.
"Although I cannot speak very much, I really love to sing," Marty shared at Commencement. "I scat, beat box, and sing jazz. I sing oldies and new songs."
"With the singing, we are amazed at his choice of songs, showing us that he finds meaning and emotions in songs across the genres and can sing with the appropriate emotion," Megumi says, noting that Marty needs to be prompted to play or sing – he won't sit at the piano and start playing solely on his own initiative. "Given that he cannot tell us what he thinks and feels, his singing has opened up a vehicle for him."
She says Marty is now preparing to make a small video concert of his song repertoire.
Supportive learning designed around the child
At the June Commencement Ceremony, Marty acknowledged many people who had helped him reach his learning goals. He thanked each of the support education assistants and service providers who had supported him as he learned to play music, sing and dance. He also recognized his family and Kathleen for their assistance. And he ended his presentation with a note to SelfDesign:
"Thanks, to SelfDesign for supporting me on my learning journey for 14 years!"
As for Megumi, she says that Kathleen and SelfDesign helped Kaitlin and Marty in so many ways.
"I could never have imagined how far my children could have come when I was given their dire diagnosis when they were little," she says. "Yes, they still need our support and care on a daily basis. They are wonderful young adults with strong personalities who love to make music. Looking back, I am grateful to SelfDesign for supporting Kaitlin and Marty and their strengths.  I am grateful for Kathleen for treating them as people who deserved to have as many opportunities as they could."
At SelfDesign, she says, Marty and Kaitlin did not have to fit into the education system. "Their program was developed to fit them."
---
Learn more about our personalized approach to learning
Learn how we support and include learners of all abilities, skills and interests
Learn more about our core beliefs and our model and philosophy for learning
Read about other learners' SelfDesign journeys