Todd Butler has a hard time explaining all that his work involves to people unfamiliar with SelfDesign.
"My mom's always asking, 'Well, what would that mean if you worked in a regular school?'" he says. "And, well, I can't really equate it."
Todd became our new Family Services team lead in June, when Clarissa Tufts, who had been in that role since 2015, joined the SelfDesign® Learning Community Principal team.
That part is fairly easy to explain: "I oversee and support the day-to-day operations of Family Services," he says. "I work closely with SelfDesign's Principal team, our Education Services team, our Support Education team, and the Educational program team. Alongside that, the team that I work with includes a clinical counsellor – and we have our guidance counsellors and our Contact Assistance Team (often called 'CAT'). Together, we support learners, families and educators throughout SelfDesign Learning Community."
The part that is more challenging to explain is all that Family Services does and how integral it is to SelfDesign Learning Community's approach and success with learners and families across B.C.
Family Services: Supporting learners, families and educators
At its most basic, "Family Services offers integrated, holistic support to learners and their families," Todd says. "We provide support for anything that affects learner participation in their education program and anything that has to do with engaging in the school environment."
That includes some services that are often available in brick-and-mortar schools, such as providing access to information about safety, mental health, study practices and so on, guidance counselling for learners planning and preparing for career and post-secondary learnings, and counselling services for learners experiencing difficulties.
It also includes the Contact Assistance Team, which works, alongside our educators, with learners and  families who are experiencing challenges in engaging with their learning and with the school. When a school provides personalized learning opportunities across a large region, as SelfDesign Learning Community does, this kind of targeted, personalized support for learners and families is essential to ensuring their learning journeys are successful.
"We also touch on learner safety and making sure that we're a wholly respectful school environment," Todd says, "and we support diversity and inclusion initiatives throughout our community."
As team lead, Todd helps, oversees and supports the delivery of those services, programs and initiatives.
Read more about what Family Services does
Family Services' new team lead: A natural progression
Todd says stepping into the role of Family Services team lead role has been "a kind of natural progression" for him. From 2014 until June this year, he directly supported former team lead Clarissa as one of two Family Services education coordinators.
"I worked closely with Clarissa and with my co-coordinator," he says. "I supported the Contact Assistance Team, and my focus was supporting learners in grades 10 to 12. I also worked alongside the other program areas, implemented policies and supported the education program. It was similar to what I'm doing now but now I'm doing it on an expanded scale."
That, however, is just one of the roles he has taken on in his 14 years with SelfDesign. For most of that time, he was a SelfDesign learning consultant, working directly with learners and families to help plan, guide and support their learning. He has worked as a member of our Contact Assistance Team since 2010. In yet another role, he directly supported other learning consultants on a day-to-day basis. He also took on the role of a SelfDesign learning consultant mentor – providing guidance and advice to learning consultants new to SelfDesign and growing into their roles.
On top of that, he is a SelfDesign parent to three learners.
He says taking on all those different roles was "really cool, because each role informed all the others, and I could do all kinds of different things."
The accumulated experience and expertise led him first to become a Family Services coordinator, then to step into the team lead role.
Todd's introduction to SelfDesign
Todd was working as a teacher at a Waldorf school in Kelowna in 2008 when his wife came across information about SelfDesign. Their oldest child was approaching the age to start school, and they had known from the time she was born that they wanted to explore home learning.
"My wife said, 'Hey, check out SelfDesign' and shared the information with me," he says. "It just really resonated. It felt so good."
It was also his wife's suggestion that Todd consider working with SelfDesign. He checked it out, applied and was offered a part-time job as a learning consultant. For one year, he did that and taught in the classroom.
"The learning consultant role was just so, so rewarding," he says. "I wanted to do it all the time, so I left classroom teaching, and in my second year with SelfDesign, I became a full-time learning consultant. I left everything else behind."
In the 14 years since, his three children have all experienced SelfDesign as learners. The oldest commenced from SelfDesign Learning Community in June, the second child is now in grade 11, and the youngest, after trying a year with our homeschooling program, SelfDesign Home Learning, has returned to our kindergarten to grade 12 program.
And Todd has made SelfDesign his career of choice.
An accepting, authentic and sharing community
Last year, like many other people, Todd found he was having a hard time. He was finding the public health restrictions and the pandemic's effect on his day-to-day life and work difficult.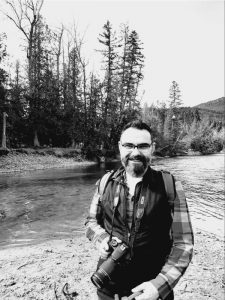 He went to talk to a counsellor in the Okanagan town where he lives.
Her message, he says, was gratitude. "'Think about gratitude. What do you have to be thankful for?' And she gave me a practice," he says. "And it worked for me."
He used the experience, in turn, to help the SelfDesign community. He put together some resources on the practice of gratitude for Family Services' Virtual Brochure Rack – a collection of helpful online resources and information on more than 125 topics, found in SelfDesign's online Family Resource Centre.
"It was something I could offer out of my own experience, knowing that it was safe to do so, that others might be able to relate to and use," he says. "A lot of people have thanked me for sharing, which is really great."
That kind of experience is not uncommon at SelfDesign. SelfDesign has a culture of safety, inclusion and acceptance and of continuous learning. That, in addition to the variety and challenge in working in Family Services and the authenticity of people, has, Todd says, shaped both who he is and his approach to his work.
"My experiences with SelfDesign help me in all kinds of ways with my friendships and relationships outside of work, and then those in some ways help me reflect on how I'm relating with people at work, too," Todd says. "Really, so much of my life has been shaped by SelfDesign. I just think of the time before I started with SelfDesign, and how my experiences here have shaped who I am."
As he moves ahead in  his new role, Todd looks forward to opportunities to put the experience he has gained over the last 14 years into practice to support his team, learners, families and educators in the SelfDesign community.