"SelfDesign has been a wonderful experience for me, and a place where I've learned how to dream and how to wonder," says Matt.
The learner enrolled with SelfDesign in 2011 because he wanted to learn and explore at his own pace – something that wasn't encouraged at the brick-and-mortar school he had attended in grades one and two.
"It seems like a small thing," he says, "but if I cannot freely wonder about myself and the world, what will happen to my creativity and curiosity? I like to ask questions, and I want to know why things happen. I need to go down my 'why?' path."
Matt, who has autism, spent his nine years with SelfDesign Learning Community following his curiosity and exploring his interests. He also received the support and guidance he needed to engage fully and successfully with his learning on his own terms.
This past June, he commenced with a Dogwood Diploma (B.C. Certificate of Graduation). His long-term goal is to become an end sequence technician – the person who creates the credit sequence at the end of a film – or a stage or voice actor. He is also considering going back to school to study history, another of his great interests.
People make the difference
Matt credits the support he received as a learner for making his learning journey so successful. At SelfDesign, more than a dozen people worked with him to support him, encourage him, help him navigate his learning, and show him how to nurture and celebrate his own curiosity.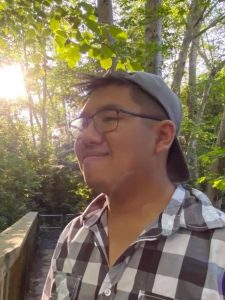 His experience exemplifies one of our foundational beliefs at SelfDesign – that learning is enriched and amplified through conversations and relationships with others.
As he says, "It's the people that make the difference at Self Design."
His learning consultant, Evelyne, helped Matt develop a growth mindset and to try new things even if they may at first seem intimidating.
"I didn't always believe I could do new things that I've never learned before, but Evelyne always encouraged me," he says. "She helped me discover that I can. She has always been there for me, and I love how she met me right where I was, because I am easily frustrated."
His support education assistant, Maureen, worked hard to keep him engaged and brought in tools to support his learning. Matt, a self-confessed fan of the works of author J.R.R. Tolkien, says Maureen helped him engage with his learning on a deeper level by relating his schoolwork to his interest in The Hobbit, The Lord of the Rings and all things Tolkien.
"Many school assignments were much more enjoyable because of her support and dedication to see me grow and learn," he says.
Matt also recounts how he first met SelfDesign Learning Community Vice Principal Catherine Dinim (now Principal of SelfDesign Learning Community). He was scheduled to write a math assessment at a public school in Vancouver. Catherine came to the school and helped him settle his nerves so he could focus on the testing.
"Having her there to support me made such a big difference," he says. "I am a visual learner, so seeing her smile when I looked up reassured me that everything would be fine."
Our learner-centred approach to learning
At SelfDesign, Matt learned the value of being curious.
"A light bulb moment happened when I understood why I love to ask questions," he says. "I discovered how smart it is to do that. If I don't ask, I may miss out on something extraordinary that helps me connect to the world."
He also benefited from being able to grow at a pace dictated by his own learning needs and style, something made possible by our learner-centred approach to learning. At SelfDesign, we place each individual learner – each of whom comes with their own package of unique needs, abilities and interests – at the centre of their own learning experience.
"When you think about personalized education – and SelfDesign really is a model of personalized education – if you hold the learner at the centre, then who they are directs everything," says SelfDesign's Chief Learning Officer Nikki Kenyon. "Who they are is who they are, and all of our work is to support them in being and exploring who they are. We're just holding them here and saying, 'This is you. We see you. What do you need?'"
"SelfDesign is committed to creating and providing a curriculum and learning events and offerings that are designed right from the start with every single one of our learners in mind," says Education Program Team Lead Janice Green.
"To ignite learners' passion, we welcome many, many methods of engagement and encourage that engagement to continue, deepen and grow at each learner's own pace and according to their comfort levels."
Matt says the approach enticed and engaged him, and made his learning fun and exciting. He would get up in the morning "eager to start."
"Every day is different, and I wasn't afraid to go down that path," he says. "How cool is that? I got to follow my questions to learn."
A curiosity-driven learning  journey
When Matt needed additional support for his learning at SelfDesign, he received it. Sometimes that support led him to ask new questions, follow new lines of curiosity, and find new passions.
For example, to help him manage his learning challenges, SelfDesign connected Matt to an occupational therapist. During therapy, Matt learned about movement, balance and coordination – skills that enabled him to audition for, be cast in and perform in his first live theatre show, a production of Les Misérables.
That experience, in turn, ignited an enduring passion in Matt for stage and voice acting. And it helped him find his own community – a place in the world where he feels accepted for who he is and where he feels he belongs.
In addition, it sparked an interest in the work and influence of Temple Grandin and of Mickey Rowe. Grandin is a U.S. professor who lectures around the world on autism and humane animal handling. Rowe is the first actor on the autism spectrum to play an autistic character on stage (the role of Christopher Boone, in the award-winning play The Curious Incident of the Dog in the Night-Time) and is the founding director of Seattle, Washington's outdoor community theatre company, Arts on the Waterfront.
Being part of a theatre production also helped Matt find his voice.
"I am learning to self-advocate," he says, "and I find Dr. Grandin and Mickey Rowe very special because they have a heart for those with autism. I can relate to them because I have always felt that I am a square peg in this world with round holes. Now, these two famous people continue to inspire me that I also have something to offer. There is a path forward for us square pegs, and that gives me hope."
The foray into theatre also led Matt to explore filmmaking and further develop his interest in history. When opportunities to participate in theatre and other in-person activities were suspended in early 2020 because of the pandemic, Matt selected the Art and Design Lab grade 12 theme early in his last year with SelfDesign. There, he developed an interest in film and photography.
He used what he learned to make a short film based on the Second World War and the Dutch Resistance for his final grade 12 personal project. The film was set in his home, and his family members served as cast and crew.
The project allowed Matt to delve into the work of film directors and technicians and led to his interest in training as an end sequence technician – now one of his career goals.
"I probably would never have stepped on stage to do theatre or made the film if SelfDesign had not provided so many learning options for me," he says, "As an SelfDesign learner, I am not afraid to go outside the box if it opens up new doors to other opportunities."
At SelfDesign, Matt learned how to wonder. He discovered how to dream. And he fell in love with learning.
---
Learn more about our personalized approach to learning
Learn how we support and include learners of all abilities, skills and interests
Learn more about our core beliefs and our model and philosophy for learning