"Ballet is one of those things that looks easy and effortless but is actually so painful," Izabel says. "And it's our job as dancers to hide that."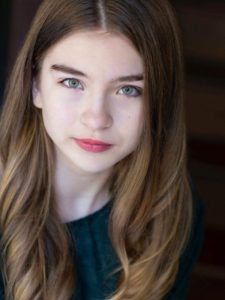 Izabel, a member of SelfDesign's Class of 2021, performed as a member of Coastal City Ballet Company's ballet corps in Swan Lake in 2019. She describes the experience as "terrible but amazing."
"Swan Lake is one of those shows where you're standing on the side of the stage for 15 minutes in the same position in pointe shoes," she says. "You can't move. You're not allowed to breathe normally – you have to breathe in a very specific way. You're holding your arms up and out, and you're balancing just so and pulling up and just holding."
It was, the 16-year-old says, "one of the most thrilling and exciting performances of my life. Honestly, it just made me love ballet that much more."
Izabel, who has been dancing for as long as she can remember, says she has always loved the challenge that comes with ballet.
"You can never be perfect, so you're always pushing," she says. "I think that Swan Lake taught me that – just how much there is to draw on and how much further you can always, always take it. It also taught me how much I love performing. It was one of those wake-up moments of 'Oh, my gosh, I love this so much and that hurt so much and I have to go stick my feet in a bucket of ice, but it was so, so worth it.'"
An established performer
The U.K.-born, New Westminster–based teen has considerable experience performing. In addition to all the recitals and studio performances she took part in as a young dancer- and actor-in-training, she has performed in Hansel and Gretel with Coastal City Ballet (2014) and in The Nutcracker with Royal Winnipeg Ballet in Vancouver (2014 and 2017). At age 9, she was cast in the movie The Age of Adaline, filmed in Vancouver. She appeared on stage in Reality Curve Theatre's 2017 production of The Pillowman and in the 2018 movie, Parallel. She also regularly reports on issues of concern to youth for Shaw T.V.'s teen-produced show Gen Why and has both hosted the Joey Awards recognizing young Canadian performers and received several Joeys herself.
"I really like acting, and I also love reading – that's one of my favourite hobbies – but my passion is dancing," she says. "I love doing ballet. I love going on stage and being able to perform and getting to dance. That's what I do all the time every day. And it's my one big passion and my career goal."
Balancing a demanding schedule
Izabel spends eight or nine hours most days at her Vancouver dance studio, training, rehearsing, and maintaining her conditioning as a dancer. She also has lines to learn and scripts to work through for her T.V., stage and film work.
And until this past spring, she had school work, too. She graduated from SelfDesign Learning Community in June with a Dogwood Diploma (B.C. Certificate of Graduation). Because of the grades she received in grade 12 and her achievements in ballet, she received one of seven BC Ministry of Education School District/Authority scholarships awarded to SelfDesign learners in 2021.
"I've always been good at time management and planning, and I really think that's what kept me going," Izabel says. "I like having everything planned out, setting goals, and knowing when I'm going to work on school, when I'm going to do my dance, and when I'm going to learn my lines, so I can fit it all in.
Integrating learning with other activities
SelfDesign's learner-centred approach to learning made managing her commitments a bit easier, too.
"SelfDesign allowed me time to focus on my passions as well as continuing my schoolwork," she says. "I could always find some way to incorporate my passions and what I was doing into my learning, which really helped me, and obviously also gave me more time to dance."
That kind of integrated, personalized learning is what SelfDesign is about, SelfDesign Chief Learning Officer Nikki Kenyon says.
"Because the learner is always at the centre of their learning journey, their interests and passions are, too," she says. "Our program is called SelfDesign for a reason. It requires learners to take ownership of their learning. It requires them to build a plan for themselves, establish learning goals that make sense for them, and to think about how they're going to meet them."
For example, one of Izabel's projects in our grade 10 Healthy Living theme for learners focused on dancers' nutrition. Another project explored the work and life of renowned ballet choreographer George Balanchine. For a grade 12 project, Izabel choreographed her own piece and wrote about how it had been her first leadership experience.
She also studied injury prevention as part of her SelfDesign learning.
"That's a big one, right?" she says. "Dancers have this thing where, if they're injured, they tend to keep quiet about it because they want to keep on dancing. Learning these things at school has really helped me learn how to take care of my body, what I need to eat and what to do if, for example, I twist my ankle. And that supports my dancing, too."
The work she did as part of her SelfDesign Explorers and Inspired Action themes inspired a project that she integrated with her television work.
"I'm doing a panel for the show, where I interview Canadian celebrities and green activists about what they're doing for the environment, and how teens can help and the things teens can do."
Setting the stage to further a career in dance
One of Izabel's goals for high school was to graduate early.
"SelfDesign's whole system and the way they let me work allowed me to do that," she says. "I don't think it would have been possible if I'd been in a regular school."
Finishing high school early will help her maximize the number of ballet internships she can take part in before she turns 18, the cut-off age for many dance intern programs. For example, she spent this past summer training with the English National Ballet in the U.K., she is signed to dance again with Vancouver's Coastal City Ballet this fall and winter, and she's hoping to return to the prestigious Joffrey Ballet School in New York City where she'll take part in the four-week summer intensive ballet workshop for a second time.
She'll also be spending the year preparing auditions and getting ready to compete at the Youth America Grand Prix, the world's largest dance network, in December, and at the World Ballet Competition in June 2022. Both competitions offer scholarships and can open doors to performing with professional ballet companies around the world.
Her dream, Izabel says, is to eventually dance for the Royal Ballet in London, U.K.
Downtime
In the moments when she's not rehearsing, practising, training, performing or preparing auditions, Izabel likes to curl up with a good book.
"If I could have just one super power," she says, "I'd like it to be one where I could touch a book and read the whole thing just through that one touch. Imagine how much information you could absorb just walking through a library and brushing your fingers against the spines of the books in the stacks. That would help you do so many other things with what you learn. If I could do that, I would be so, so smart."
She's already plenty smart, and she's on track for an exciting career in ballet.
---
Learn more about SelfDesign's grade 10–12 program
Learn more about paths to graduation at SelfDesign