Exploring their interests in the arts shaped Makayla's (left) and Mariah's (right) learning journeys. During the decade they spent with SelfDesign, the two learners from our Class of 2021 explored painting and photography, pottery and sculpture, music and singing, and dance and theatre.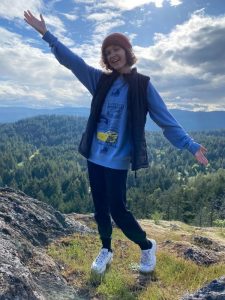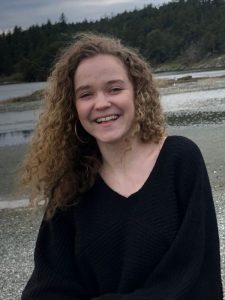 The Victoria-based twins have each had work showcased in the Youth Art Gallery at the annual Sooke Fine Arts Show, Vancouver Island's premier juried art show. They have performed with the Vancouver Island's Sooke Dance Studio, Kaleidoscope Theatre and Peninsula Players, and they are now signed as company artists with the National Stage Company of Canada, a Vancouver Island-based theatre company.
"With SelfDesign, we could do school, and we could also do all these other things," Mariah says. "We could have private lessons with our dance teacher during school hours, because our school didn't have 'class time.' We could do school in the evening or get it done first thing and then have time for dance and acting."
At SelfDesign, learning takes place online, at home and in the community.
"We not only consider lessons and classes provided by community-based organizations part of a learner's potential learning journey, we encourage learners and families to seek out those opportunities through our Learning Resources and Support program. We also help learners to integrate these community-based opportunities into their learning for SelfDesign," says SelfDesign's Chief Learning Officer Nikki Kenyon. The opportunities can come through community art, dance and theatre studios, sports teams, athletic clubs or any other community organization.
For example, Mariah says, "We were encouraged to bring our love for dance into our projects. I did lots of dance in my own projects, and we both did lots of theatre shows for projects. Whatever I was learning in my dance or acting classes, I could bring into my work with SelfDesign and use it to improve my learning and make it stronger and just be more passionate about it."
Makayla and Mariah are now following their passion for theatre at the University of Victoria. Both commenced from SelfDesign Learning Community with Dogwood Diplomas (B.C. Certificates of Graduation) in June, and both have received BC Ministry of Education School District/Authority Scholarships and University of Victoria full entrance scholarships. In addition to performing and learning about how the business of theatre works, the sisters will study community and applied theatre – how to take theatre into communities and use it to create change.
How it began
One winter, when Makayla and Mariah were in grade two and enrolled in a public elementary school west of Victoria, about three feet of snow fell overnight. The snow rendered many roads on south Vancouver Island impassible. Businesses were shuttered. Schools were closed for the day.
At some point during the unexpected day home from school, seven-year-old Makayla became curious. She wanted to see what snow is made of. She brought some inside, melted it, stuck it in the freezer to refreeze it and then melted it again.
Her investigation triggered an entirely different investigation by their mother.
"My mom saw what I was doing, and she was like, "This is so cool…," Makayla says. "She went looking for schools that offered that type of learning, that allowed children to apply the things that they love to their own learning."
Within weeks, the sisters were enrolled with SelfDesign Learning Community.
"We really liked being able to do what we liked and to learn on those terms instead of having to stick to the curriculum in the school system," Makayla says. "Being able to follow our passions, having our mom help us and teach us, and using the resources that SelfDesign offered was an amazing opportunity. It's been an incredible experience."
The family hasn't looked back. The twins' younger sister Samantha started with SelfDesign in kindergarten. And now, after almost a decade, Makayla and Mariah have finished their SelfDesign journey.
"That's where that snow experiment took us, and that's what we did along the entire journey," Makayla says. "We just made sure that everything we were passionate about applied to our learning so that we could always feel that curiosity and love for learning."
Highlights of SelfDesign
Mariah says the biggest, possibly most valuable lesson she learned during her time with SelfDesign was how she learned best.
"I wasn't forced to learn just the textbook way" she says.
"I could learn through my art. I could learn through videos. I could learn by interviewing someone. It was limitless, and that pushed me to be limitless in how I approached my learning. That was probably my favourite part of SelfDesign – how free and accepting the program is of how we can approach learning."
Makayla really appreciates the support and resources offered to learners and the rapport they built with their SelfDesign educators.
"The teachers were just amazing and offered us so many learning opportunities, skills and new ways to look at our work," she says. "It was such a mind-opening experience."
The sisters formed such a rapport with their learning consultant, Nicolle, they stayed with her for nine years.
"Nicolle went through the new high school program with us," Makayla says. "It was a whole new journey for all of us.'"
Over the years, Nicolle watched two shy, quiet children grow up and come into their own. She saw Makayla and Mariah transform through volunteering, dance and acting classes into confident young adults who are practised in public speaking and organizing events, who engage with and charm friends and strangers alike, and who adore performing live on stage.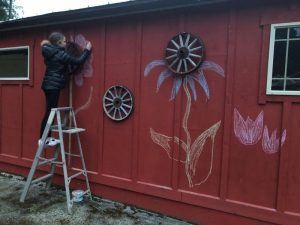 "With the ability to work with learners over many years, the learner–learning consultant relationship deepens," Nicolle says. "As a result, trust and friendships can blossom. I was able to support Makayla and Mariah's growing interests and really understand their needs as I observed them grow and stretch their abilities each year."
She says that every year, right from the beginning of each new learning year, learners and their learning consultants work together creating a unique learning plan that supports each individual's learning goals. "Then throughout the year, we are able to adapt to support our learners' needs," Nicolle says. "I feel that the open communication that starts from a young age with SelfDesign learners really helps them to form their own unique identity, to realize how they learn best, and what their long term goals are and how they can best meet them."
Relationships form the core of a supportive learning environment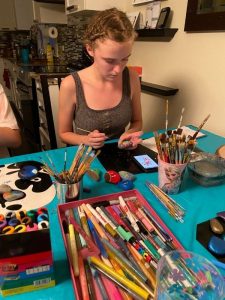 "The whole environment at SelfDesign is really lovely," Mariah says. "They really put kids' mental health first and take care of their learners."
The twins admit they have high expectations of themselves. They push themselves to exceed.
During the sisters' grade 12 year, the pandemic left more time for their SelfDesign schoolwork. Dance and theatre classes were cancelled, the theatre productions the sisters had been scheduled to perform in were postponed, and few other community-based learning opportunities were available.
"We both decided to take our projects to another level," Mariah says.
Their efforts paid off. With excellent grades, the sisters were awarded their University of Victoria scholarships, which require a 95 per cent grade average through grade 12.
Although thrilled with their academic success, Makayla and Mariah realized it had come at a cost.
"I was tired and a bit burnt out, actually," Makayla says. "I felt like, 'Oh, no – what can I do to change this? How can I practise at SelfDesign the self care and skills I need to also take care of my mental health?' Especially considering I'll be going to university, where I'll have the same expectations and pressures for myself."
"My love of learning had become a little rusty," Mariah acknowledges. "I wasn't happy with how I was feeling."
They talked to their learning consultant. They met with their learning specialist.
"We told her that we were going to work on balance but also wanted to keep our grades up," Mariah says. "We asked her, 'Would you tell if we're going below the 95 per cent average, so we can keep it up and work on it and keep our scholarships?' She was so lovely about it. She helped us out, and she said, 'I will totally let you know if your grades are going down, and I'll help you pick it back up. We can work together on this.' It was really, really supportive."
"Having strong communication between all of us, Mariah and Makayla felt comfortable to share their feelings and needs," she says. "Through our weekly communication, we were able to adapt quickly to the needs they expressed, and in doing so, we were able to support their well-being while continuing to support their academic success."
In the second semester, each of the sisters found balance.
"I would take time off," Makayla says. "I would do schoolwork only during a certain time of the day – say, from 10:00 to 3:00. I would set limits. I would take breaks and go do some art for myself or go do something that recharged me. Then I would come back to it the next day, refreshed."
That approach worked. Both sisters fell in love with learning all over again, and they retained their scholarships.
"By the end of the year," Makayla says, "we found we had done just as well as we had in the first semester – if not better. We were mentally healthier and thinking more clearly because we'd had rest, we'd had balance. And I, personally, found that doing that – looking after myself – didn't take away from any of the other stuff I had done before, and I was happier, and I no longer felt burnt out."
"I feel this is at the core of what I do as a learning consultant," Nicolle says. "By developing long-lasting relationships built on trust, I am able to support my learners and help them develop the skills and personal understanding needed to develop a healthy balance toward sustainable lifelong learning."
Learning how you learn best, learning how to keep your love of learning alive and fresh, learning to ask for help when you need it, learning to find and apply balance and manage your time – some people learn these lessons only in university or even later in life. Makayla and Mariah, however, will take these learnings from their SelfDesign journeys and be able to apply them through the rest of their lives.
–
Learn more about paths to graduation at SelfDesign
Learn more about SelfDesign's grade 10–12 program
Learn more about mental health resources and supports at SelfDesign