SelfDesign believes in the safety, acceptance and inclusion of all learners in regards to ability, learning style, culture, race, personal or spiritual beliefs, gender identity and expression. We are committed to providing quality educational programs and services that are inclusive, supportive and accessible to those we serve.
As with many special days throughout the year that raise awareness of the importance of all facets of diversity and inclusion, Tuesday, April 13, 2022 – International Day of Pink – allows everyone in our community to stand up for that belief.
International Day of Pink represents equality, diversity, inclusivity, solidarity, kindness, courage, acceptance and more – values that we, in SelfDesign, support. The event's goal is to create a more inclusive and diverse world by encouraging young people to challenge social norms and to stand up against bullying towards their LGBATQI2S+ peers.
SOGI 1 2 3 at SelfDesign
Here in SelfDesign, we work towards this goal year round by actively seeking out ways to implement SOGI 1 2 3 (Sexual Orientation and Gender Identity 1 2 3) throughout our organization, programs and offerings to support our youth and other community members who identify as lesbian, gay, bisexual, asexual, transgender, queer, intersexual, two-spirit or other, or who might be exploring their gender identity and sexual orientation.
The Ministry of Education requires all B.C. schools to implement SOGI programming. Our own inclusive approach to community and learning facilitates this work.
Our Family Services team has been helping to lead our efforts. They liaise with other schools and stakeholders in the province, develop resources, arrange for professional development, coordinate initiatives, and support and share with our learners, families, educators and contractors.
"Meeting learners where they are, and supporting their growth, is what we do in SelfDesign," says SelfDesign Learning Community Principal Catherine Dinim. "If a family comes to their educator and says, 'Our child is exploring their gender identity and wants to use 'they' pronouns,' their educator will know that there's support, and might say, 'The Family Services team has some resources and there are some library resources. Let's explore them together.'"
Resources for learners and families
The Family Services team collaborates with the SelfDesign Learning Experiences librarian to develop content for learners, families and educators to learn more about gender identity and its many nuances. Over 150 interesting, relevant, inspiring, safe and appropriate individual Learning Experiences and over 1,700 Content Pages related to specific topics are currently available in the Learning Experiences Library. They include many curated resources dealing with this important topic, as well as with relationships, sexual reproduction, and sexual health.
Many resources about supporting learners and families who are exploring issues related to gender identity and sexual orientation are available in Family Services' Virtual Brochure Rack, says Vice Principal Clarissa Tufts.
"And," she says, "we're continuing to work to ensure all of our learners can be connected to community resources in their local communities if and when needed."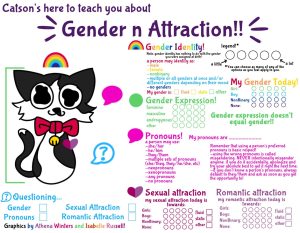 In addition, our Gender Sexual Orientation Alliance (GSA), which continues to grow and strengthen every year since it began in 2020, provides a place for SelfDesign LGBTQ2S+ learners and allies in grades 8 to 12 to connect, learn and support each other, and contribute to a healthy school environment for all. Our Rainbow Hubs for younger grades support learning about issues related to sexual orientation and gender identity in a way that is age and developmentally appropriate. Both the GSA 8–9 and 10–12 Class pages and the Rainbow Hubs have new resources added that explore monthly themes.
The amazing learners who are part of our GSA have also been providing ideas, input and inspiring content to share with learners and families.
One example is how two members of the alliance took it upon themselves to design an infographic for youth that they feel more accurately conveys the nuances around gender identity and sexual orientation. The result is both informative and playful infographic that teaches us about gender and attraction.
SelfDesign has always strived to be – and prided itself on being – an inclusive, supportive community where learners are comfortable to be themselves authentically.
On International Day of Pink, we wear pink with pride, as we support our LGBATQI2S+ community members and stand up for acceptance, diversity and inclusion.
---
Read more about our values and who we are