As an online school for 21st-century learning, SelfDesign approaches innovation broadly and holistically. We innovate and evolve our learner-centred educational programs and services based on an understanding of cutting-edge research in the fields of pedagogy, human development, neuroscience and technology.
And we demonstrated our technological innovation at the start of this learning year when we transitioned to a new learning management system, an integrated-software online platform used for creating, delivering, assessing courses and communicating about learning.
According to SelfDesign's outgoing Chief Learning Officer Nikki Kenyon, we are one of the first schools in B.C. to move fully to Brightspace, the BC Ministry of Education–selected learning management system for B.C.'s provincial online learning schools. The move helps to set the stage for our continued success as one of B.C.'s largest online schools.
"We've taken an important first step in becoming a provincial online learning school," Nikki says. "It feels great to have that box checked."
Two big reasons for changing systems in time for September 2022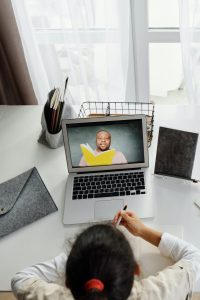 Starting in the 2023/2024 learning year, new B.C. guidelines for online education will require that schools providing services to learners across the province must be one of the BC Ministry of Education's designated provincial online learning schools. Without the designation, online schools will be restricted to working only with learners from within set geographical areas.
In early September, the Ministry invited SelfDesign Learning Community to continue the process to become a provincial online learning school.
"As an independent provincial online learning school, SelfDesign will be able to continue to support learners and families across B.C. with the high-quality program we have been delivering for the last 20 years," Nikki says.
However, the new guidelines mean that SelfDesign — and every other B.C. school seeking to become a provincial online learning school — must adopt Brightspace as its learning management system by September 2023.
The timing of the change was tricky. The Ministry announced Brightspace as its learning management system choice in March, giving us less than six months to configure the platform to our unique needs and to tailor training materials to our community. In addition, the company that owns PowerSchool, the platform SelfDesign used until June, pulled that system off the market in August.
"We knew, with PowerSchool shutting down, we needed a new learning management system," Nikki says. "We also want to be able to continue offering our services to families across the province, which meant we'd be moving to the BC Ministry's chosen learning management system. And because switching platforms is disruptive for learners, families, educators and administrators, we really wanted to shift learning management systems only once and we didn't want to do it during the learning year."
Despite the challenges, Nikki says the change to Brightspace has been smooth.
"It's gone really well," she says. "Some learning consultants have said that it has been the smoothest startup they've experienced."
Supporting educators, learners and families through the transition
SelfDesign has changed learning platforms in the past, and the team leading this year's transition drew on what they'd learned from those earlier experiences.
"We put in a lot of time and effort into this," Nikki says. "The training team we brought on shadowed us as we configured the platform, so they were aware of all the decisions we made and knew exactly how to build the orientation to best support our community during training. And because of that solid training foundation, few challenges emerged when we started up this learning year, even though we were basically changing how we do every single thing on the learning platform."
"We were supported in our orientation by a consultant who facilitated our introduction to and practice with Brightspace," said SelfDesign Learning Community Principal Catherine Dinim of the orientation sessions. "We saw demonstrations and walkthroughs of the workings of the new  platform and were able to ask questions and practice use of the platform in real-time with colleagues."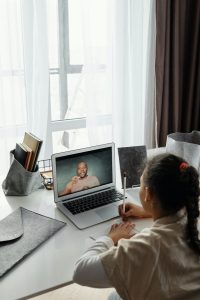 In preparation for orientation, a call out for educators, families and learners to be part of the testing team brought incredible response. In the end, the new system configuration and the training materials were tested by a learning consultant, a learning specialist, and a parent with children enrolled in SelfDesign, including learners receiving additional learning supports to meet Individual Education Plan goals and a learner from grades 10 to 12.
"So many people volunteered to help us test the platform's setup and our training materials, and we could only pick a small group," Nikki says. "The work by that user acceptance testing team allowed us to make sure that what we had done made sense and worked as expected and also helped us to refine our training materials before we did the orientations for parents, learners and educators."
Benefits of working in the new platform
Reports to date from users indicate the new system has decreased our educators' administrative work, allowing them to focus on building relationships with and supporting learners and families.
Other features include the ability to record a quick video right in the platform. And if a learner is taking another course with another B.C. school that also uses Brightspace, a little box will appear on the learner's SelfDesign Brightspace homepage. This allows them to click directly from our homepage to the other school's login page, creating a familiar sign-in environment for learners across schools.
"We implemented the 'minimum viable product' — Brightspace's most beneficial tools — in the simplest way, but many more tools are available," Nikki says. "As we become more familiar with Brightspace and get more experienced with it, our goal is to investigate other ways of doing things that may improve things even further. This potential for growth and change to allow us to improve our workflows over time is really exciting."
She says, "The tools and the functionality really are going to allow us to communicate with learners and families better even than we have been. And that is a key aspect of building relationships with learners and families and engaging in conversations around learning."
Read more about provincial online learning schools