When Hannah finished her final personal project for SelfDesign in April 2021, she could have closed the book on it and moved on to other activities. But even now, two months after she finished grade 12 and started the next stage of her learning journey, she is continuing what the project started.
The project involved Hannah, her mom, dad and younger brother undertaking a "social media detox." For one month, the Sechelt-based family avoided FaceBook, Twitter, Instagram, TikTok – the biggest time sink for Hannah – and other interactive technology platforms that they didn't need for learning or work. They recorded their reflections and reactions before, during and after taking part in the project, the process they underwent to "detox," what they learned and what they did with those learnings.
Experiencing and examining her life from the two extremes – while overindulging her phone and then not being anywhere near it for a month – provided great perspective, Hannah says. "It showed me what works best for me and what doesn't. It allowed me to take a step back from living my life through other people's lives through my phone and to really think about how I want to live my life."
It also reinforced the family's connections to each other – something Hannah really values.
"It was a beautiful experience that my whole family took part in," she says. "We played lots of board games, gardened together, did a lot of exploring and hiking and swimming. There was so much authentic family connection that was not filtered through a screen."
The project is long over, but the only social media Hannah uses now is Instagram – and that, she says, is only to stay connected with friends who live far away.
She also shared her family's template for digital detoxification with SelfDesign.
"We shared it in the hopes that anyone who wants to try it might have some ideas or find community in doing it," Hannah says. "It was a really, really amazing experience for me, and I hope it's an amazing experience for other people as well.
Exploring interests; following passions
Each learner enrolled in grades 10 to 12 with SelfDesign Learning Community undertakes two personal projects each year. These semester-long, interdisciplinary projects are fuelled by the learner's own individual passions and interests.
"We allow – encourage! – learners to explore their interests and follow their passions and to think about how they learn and what they need to thrive in the world," says SelfDesign Chief Learning Officer Nikki Kenyon. "Our program requires learners to take ownership of their learning. It requires them to build a learning plan for themselves and think about how they're going to achieve their plan. And we support them on that journey. We give them time and space to develop their interests and skills, achieve their learning goals, and find the path that is right for them."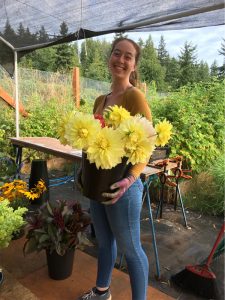 Even though she has now finished her learning journey with SelfDesign, Hannah is continuing that personalized, interest-driven approach to learning and life after grade 12. When asked what her plans for the coming year are, her response touches on many activities, interests and aspirations.
"I want to make gardens," she says. "I want to volunteer. I want to be with my family and build a property with them. I want to explore the world when it's safe to do so again, and I want to make friends everywhere and try things out. I'm keen on making books and art and video games that support a person's health in all areas. I want to learn more languages. I want to work on my physicality and my health and mainly just see where the wind takes me. I'm pretty curious to see what the world has to offer."
Hannah's SelfDesign journey
Hannah first came to SelfDesign in kindergarten, when she and her family lived in Nelson, B.C. She stayed with us for a couple of years, then tried other schooling programs, including unschooling, world schooling, private schools, and alternative schools.
Meanwhile, the family was moving from place to place. From Nelson, they went to Whitehorse, Yukon, for a few years, then to Costa Rica. When Hannah was about to start high school, they returned to B.C.
"We wanted to be in Canada for the last few years before we graduated," she says. The family considered enrolling Hannah and her brother in a public high school, but Hannah wasn't interested. "They don't have many opportunities for me to pursue different types of art, connection, learning and try different things," she says.
And then they remembered SelfDesign and re-enrolled.
"We had our first semester, and we were like, 'This is going to work perfectly for us, for where we are right now.'"
It was the flexibility, in particular, that appealed to Hannah.
"It fit my schedule perfectly," she says. "I tend to be a little all over the place, with lots of people I want to spend time with and experiences I want to try. Having schoolwork that allowed me to be flexible was great."
In particular, SelfDesign helped her to learn to manage her time so she could pursue her many interests while also working towards a Dogwood Diploma (B.C. Certificate of Graduation).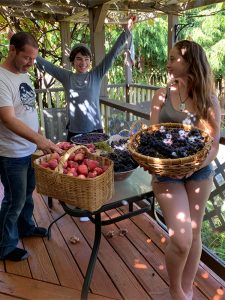 "I'd always found balancing my activities with my schoolwork a bit challenging," she says. "So I've learned how to schedule slots of time throughout the day to do my jobs, my volunteer work, my schoolwork, my family time and my time for myself."
And Hannah, who thrives on connecting and loves community, also found the SelfDesign community inspiring, supportive and fun. "It's full of learning positivity and ideas and innovations on starting new things or creating wonderful ideas dedicated to people who may have a hard time associating learning with school work because it's no longer fun or inventive or it just doesn't stick. And it's open to people coming together and saying, 'Hey, what if we do this?' And then we do it, and it's awesome, and we learn from it."
That, she says, is a pretty cool way to approach learning – and life.
Learn more about paths to graduation at SelfDesign
Learn more about SelfDesign's grade 10–12 program
Learn more about personal projects in SelfDesign's grade 10–12 program