She didn't run away to join the circus – her mother persuaded her to give it a try.
Recent SelfDesign learner Téa says her "mom saw a poster about a new circus school in Langley, and she was like, 'That is really cool.' But I wasn't that excited about it. She had to convince me to go – to switch out of gymnastics and try the circus."
Despite her lack of interest, Téa, who was 12 years old at the time and had been taking recreational gymnastics classes, enrolled with her older sister in a course for children at Circus Lab, the Langley, B.C.-based circus school that opened in 2003.
She was hooked after just one day.
"After that first day," Téa says, "I was like 'This is actually really cool.' We started off with trapeze and aerial silks, and I wanted to keep doing that."
Trapeze is a swing-like apparatus suspended from the ceiling for acrobatics. Aerial silks are acrobatics performed while hanging from suspended fabric.
The sisters worked hard over the following weeks, and their coaches noticed. They recommended the sisters upgrade into a more advanced program and start taking more specialized classes.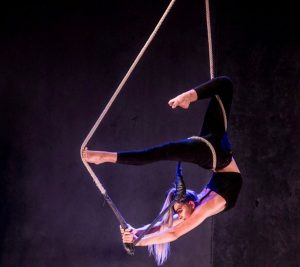 Fast forward six years to summer 2021: Téa obtained her Dogwood Diploma (B.C. Certificate of Graduation) from SelfDesign Learning Community in June. And just weeks later, she started training at the prestigious École Nationale de Cirque in Montreal, possibly the best circus school in the world.
She is enrolled in the school's one-year upgrade program in circus techniques and disciplines. Next spring, she will re-audition for the school's three-year Diploma of Collegial Studies in Circus Arts program, which combines specialized training in circus arts with the Quebec college curriculum and leads directly to a professional career. Because all training courses at the school are taught in French, she'll also be working on her French-language skills.
But as a circus acrobat who was already enrolled in full-time circus school in Langley, in addition to high school, Téa is used to juggling a busy schedule and balancing multiple commitments.
Téa's SelfDesign journey: Juggling circus school and grade 12
Families enrol with SelfDesign for many different reasons. It may be because it allows them to travel, or maybe they want to focus on family priorities. They might enrol with SelfDesign for the personalized support the school offers each learner. Or maybe they need to fit school around intense training or performance schedules for dance, music, acting, sports – or circus acrobatics.
When Téa first started with SelfDesign in grade 1, her schedule was that of any six-year-old. She homeschooled after that, but when she was in grade 9, she and her sister returned to SelfDesign Learning Community.
An online school was the only option with her training schedule. Téa chose to return to SelfDesign Learning Community specifically, she says, because it both offers the required flexibility to fit around her training and allowed her to work towards graduating with a high school  diploma. Unlike homeschool programs such as SelfDesign Home Learning, SelfDesign Learning Community provides its learners with the same opportunities to apply for university or college as learners who are enrolled in brick-and-mortar schools.
"I had just one goal with SelfDesign," Téa says, "and that was to graduate. And I did it."
Her training schedule made it challenging, however – especially in grade 12. By then, Téa was enrolled in Circus Lab's three-year artist preparatory program, a full-time professional circus program for acrobats, dancers, and gymnasts training to audition for professional careers as circus performers or as stunt performers for film or television. Every weekday included two to three hours of warmup and conditioning training and up to six hours of intense training in flexibility and different acrobatic skills – trapeze, trampoline, rings and aerial silks, for example. On weekends, Téa would practise on her own, work on specific acts or put together her audition tapes.
As a self-confessed "super-planner," she fit her SelfDesign assignments and meetings around that.
"I had to make sure I was planning enough time to get my schoolwork done but keep the time I needed for training," she says. "I found I was doing my SelfDesign schoolwork on the weekends. I had those two days each week to do it, and then I would try to use one or maybe two evenings after training to check anything or finish it up."
The experience helped to further hone her already excellent time management and organizational skills.
"It was good practice for multitasking and having the capacity to realize that I will be able to organize myself in such a way even when I am that busy," she says. "No matter how many things I've got going on, the past three years have shown me there's a way to manage myself and get it all done."
She credits Learning Consultant Michael Bender for helping keep her grounded and focused on her priorities. She would debrief with him during their weekly observing for learning meetings, where he would remind her of how much extra effort she was putting into her schoolwork, provide feedback, and help her recognize opportunities to integrate her training into her learning. Most importantly, she says, he listened.
Michael, however, says Téa came up with most solutions on her own and took full responsibility for meeting her commitments and goals.
"She is an amazing young woman," he says. "I was a cheerleader who always reflected the amazing insights she came up with. I was a smiling mirror more than anything else."
The route to Montreal
Because she was already enrolled in Circus Lab's post-secondary circus training program, Téa almost didn't apply for the École National de Cirque during her last year with SelfDesign.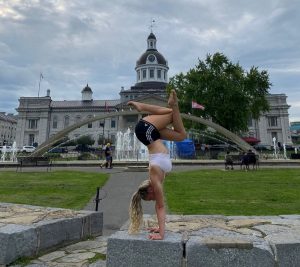 "I was just in first year, and people at Circus Lab kept asking me, 'Are you going to audition for École Nationale de Cirque?' And I kept saying, 'No, I'm doing this program.'"
Then one day, a former coach texted her about it. That made Téa pause and think. It made her reconsider. Instead of replying, she texted her parents to see what they thought of her auditioning for the Montreal school. They asked a few questions, then gave their support.
She started the long, involved audition process. It was yet one more commitment to schedule, plan and prepare for, on top of a full-time training schedule and her grade 12 schoolwork.
"I really wasn't expecting to get in," she says. "I was doing it more for the audition experience, going through that process. But by the end of it, I was convinced that I actually wanted to go to the school."
Then she was accepted. Her goal now, she says, is to perfect her skills and act.
"When I get to the school, they'll decide what my speciality will be," she says. "I'm going to train like crazy and become just really, really amazing at that discipline."
She would like to work with a circus company – such as Cirque du Soleil, Cirque Eloïze (both based in Montreal), the Royal Canadian Circus (Calgary), or any of the many other companies in Canada and elsewhere.
"I'd like a contract where I'm signed with a company with a certain act and a certain part of the show that I do, on repeat, for different audiences," she says.
As Téa found, there's no need to run away or leave school to join the circus. With SelfDesign Learning Community, aspiring young circus acrobats – and dancers, athletes, singers and musicians – can train full time while working towards their high school graduation certificates.
Learn more about SelfDesign Learning Community
Learn more about paths to graduation at SelfDesign
Learn more about SelfDesign's grade 10–12 program