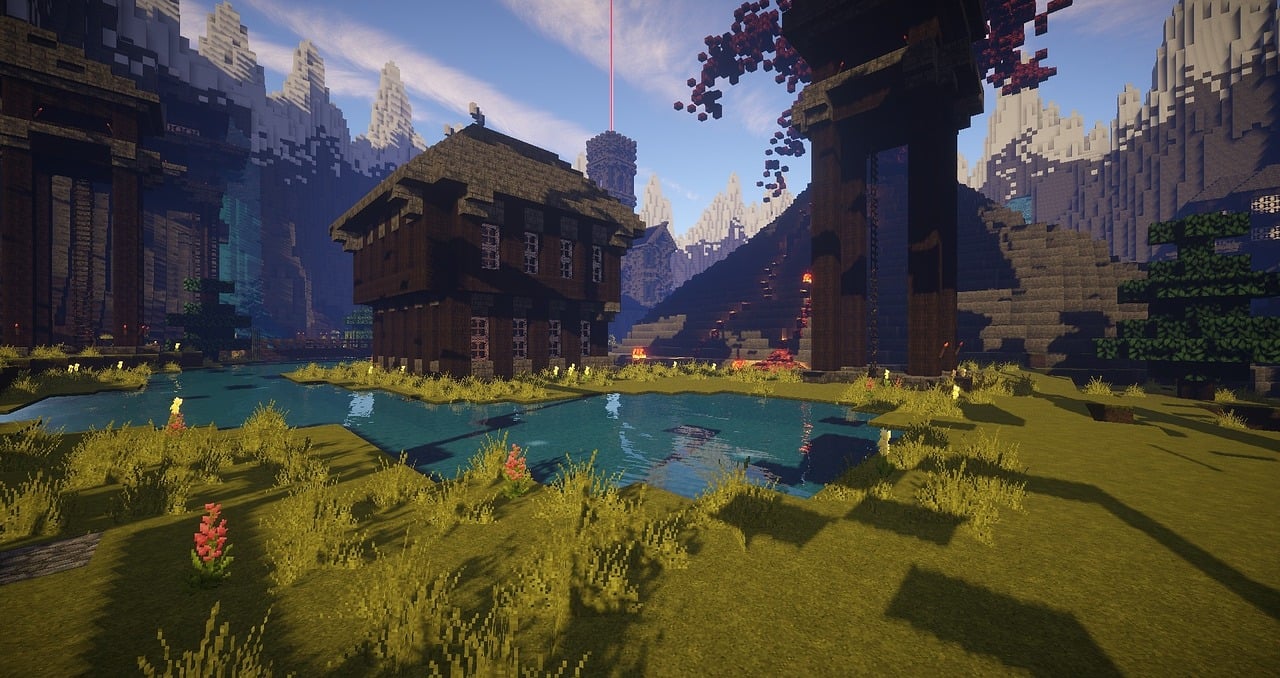 SelfDesign believes that learning happens in relationship and in community. To help make this happen, we offer safe spaces where our learners can gather, connect and share. These include everything from our Genius Hours for learners in grade 3 to 9 to our themes, workshops and circles for learners in grades 6 to 12.
One secure online space we hold for our younger learners is our Minecraft group. When learners in kindergarten to grade 9 gather in our Minecraft workshop space to share, talk and connect, they build community among themselves and also more literally.
Every year, 60–100 learners use the popular role-playing video game platform to collectively negotiate how to design and build communities in SelfDesign's own Minecraft world.
"In past years, we've built a modern neighbourhood, a skyscraper village and a mall. Last year, the learners built an Olde London Towne," says Michael, the educator–liaison for the SelfDesign Minecraft Workshop. "We built the town hall in the centre, and the learners came up with the designs. The year before, the learners set up a government, with a mayor, council and everything."
Minecraft is a video game in which players create and break apart structures and landforms in three-dimensional virtual worlds, using what are called "blocks" (think, very generally, of how Lego blocks can be used to build things).
The point of the game is to build, explore and survive.
Although there are a number of ways the game can be played, Michael says the SelfDesign group plays it in what is called "Survival mode." This means players must use their initiative and creativity and work together to find their own building supplies and food. In the Minecraft world, those materials have value – they represent time, effort and sometimes research, to figure out how to do something.
"It's a virtual world, with random things and also things that players can create and interact with and direct through their own choices and influence," Michael says. "And it's all shared. Because we're a school, we've set the game up so more resources are available, and we've included some resettable resource-producing features, like mines, so that everyone has access to the same resources."
But some resources remain limited. That adds challenge. It also means learners must work together.
"In the game, land is a resource that they have to negotiate for and share," Michael says. "There are rules, which the learners created through their Minecraft town government. These 'laws' guide, for example, where the learners can build, how big they can build, and if they need to negotiate with a neighbour about something – just like in any actual town we live in in British Columbia."
And to increase the fun and excitement, the game's built-in mobs and monsters come out at night.
Bringing Minecraft to SelfDesign
In addition to being the education–liaison for SelfDesign's Minecraft Workshop group, Michael is a SelfDesign learning consultant, the learning specialist for the grade 10 Life Gamified and grade 11 Virtual Dreamers themes and the parent to former SelfDesign learners. While he oversees the three weekly meetings with SelfDesign's Minecraft learners, SelfDesign Home Learning coordinator and Subscriptions steward (and Michael's spouse) Lori administers the SelfDesign server the online workshop–game is housed on and looks after communicating with the groups' members between meetings.
They brought Minecraft to SelfDesign in 2010.
"Our youngest son came to us one day and said, 'There's this new game. You've got to try it out,'" Michael says. "It hadn't even been released yet – the developers just wanted people to try it. We got on and started playing, and we LOVED it! Then they came out with a version that had the zombies and monsters."
All five members of Michael and Lori's family got accounts, signed onto their computers and played together in their own world.
"There was squealing and excitement," Michael says. "Somebody was coming to save somebody else from the zombies, and somebody else finding the rare items. It. Was. So. Much. Fun!"
Then their youngest said, "I think SelfDesign learners would love this."
Michael and Lori put together a plan, based on their kids' feedback, and brainstormed ideas.
"After finding out that this game could be a medium for SelfDesign learners to practise their online communication–building skills, we created a world for them," Lori says, "and with SelfDesign's permission, we invited them in."

"It just took off," Michael says. "There were so many people who wanted to join, we started formalizing it a bit and learning how to administer it ourselves."
One thing led to another, the SelfDesign Minecraft platform grew, and the workshop group developed into what our learners and families know today.

Building connection and community
"Minecraft, just like other toys and adventures in life, is a wonderful avenue for learning," Lori says. "When finding a safe place for children to connect online, it can promote a higher sense of engagement and teamwork that may be missing in some learner's lives. "This opportunity to engage together online (and in audio) can be so helpful to those who are feeling alone."

"Our goal is to build a community," Michael says "It's not to create and all of that other stuff that people normally associate with the game. It's to build a community – in the virtual world AND among our learners."
The focus in SelfDesign's Minecraft Workshop is on collaboration, cooperation and consensus – values emphasized throughout all of SelfDesign's offerings. Those values and overarching goals shape the choices and decisions learners make when playing as a community on the platform.
"If we're going to allow something in our MineCraft world, we allow it for everybody," Michael says. "If we're going to do a public-build project, we want enough space so there's a lot for each person to build."
Lori says learners in the group have made friendships that have lasted past high school.
Growing valuable skills
In addition to collaborative and cooperative skills, the learners also develop skills that will help them as they grow older at SelfDesign. Beginning in grade 6, learners are invited to take part in online workshops and circles. Once in grade 10, they begin engaging directly with their learning consultant in weekly Observing for Learning meetings and with their peers and learning specialists in weekly theme meetings, office hours and other activities.
Through this process, SelfDesign supports them as they build their online communication skills, become comfortable being, talking and sharing online, and learn safe online and computer practices.
The Minecraft Workshop is part of the ecosystem of offerings that guides learners and families through that.
"The online communication and safety skills the learners practise in the Minecraft group is something that I take great pride in," Lori says.
To help keep learners safe while they play and learn in Minecraft, all of SelfDesign's privacy and online safety policies, education and supports that align with legislation and regulatory policies are in play. In addition, SelfDesign's Minecraft server is dedicated and secure. Only SelfDesign Learning Community learners in kindergarten to grade 9 can join, and only they, with their parents and guardians, can sign on.
An agreement that learners and parents or guardians must read and sign sets out expected behaviours and safe online practices for the group.
Parents and guardians are also encouraged to listen in on the conversations and help their children participate in the weekly Minecraft Townhall meetings and the twice weekly "chat-and-play" meetings.
But the whole point of all that background work, Michael says, is to offer another great SelfDesign space for learning, connection and community.
---
Read more about how relationships drive learning at SelfDesign>
Learn more about other online offerings for our younger learners>
Learning more about how SelfDesign keeps our learners and community members safe>