One of the most unique things about SelfDesign is the way it enables young people to pursue their passions. By creating the space and enabling the individual to pursue their calling, the seemingly impossible is made possible.
Take Sierra, a 17-year-old SelfDesign learner who has already managed to do a TEDx talk and become a teacher of carbon farming and carbon sequestration.
"I really enjoy networking and communicating with people from all different places," Sierra says. "Being able to speak, share stories and really connect – seeing what comes from that is gratifying."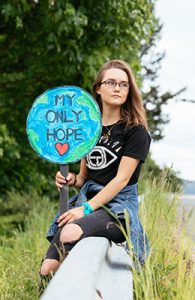 This young woman from Vancouver Island calls herself a farmer, a permaculture teacher and an activist. Sierra also loves the classic things an island-raised teenager might love – surfing on the beach, spending time with friends, playing guitar, and hiking. But on top of all of that, this teen has a level of passion and a gamut of skills that set her apart.
The topic of regeneration versus sustainability is what Sierra's TEDxYouth talk was all about. And how to apply these ideals through the impactful regenerative techniques of carbon farming and carbon sequestration is what she is teaching in classes at Vancouver Island University.
Sierra has lived on a permaculture farm since she was seven-years-old. Permaculture is a design system modeled off of nature. Sierra teaches small classes and workshops to people of all ages and to homeschoolers. As Sierra matured, she honed in on the actionable concept of regenerative agriculture – a foundational component of the permaculture philosophy. Sierra is also part of an organization called Earth Guardians, which is a powerful global youth-led movement based out of Boulder, Colorado.
By the way, Sierra hasn't commenced from high school yet. She's in Grade 12 and in the process of completing a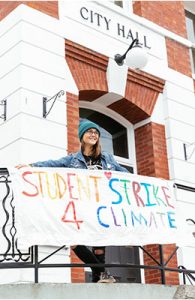 B.C. Dogwood Diploma through SelfDesign. Helping teach classes at a university before you've even graduated is quite an accomplishment and speaks to SelfDesign's flexible nature.
Sierra's entire schooling journey, starting in kindergarten, has been with SelfDesign. She credits her ability to become what she has become and explore what she has explored to SelfDesign's flexible learner-led approach and to the autonomy of her time that online learning allowed.
"I wouldn't be in the same spot if it wasn't for the fact that SelfDesign allowed me to really focus on my specific skills, passions and interests," she says. "I'm so grateful that SelfDesign provided me with the support I needed to be able to really learn those core things – like math, science and English – through project-based learning on the farm."
"For Sierra, one of the benefits of SelfDesign's approach is that she has been able to dive deeply into her areas of passion," says Nikki Kenyon, principal of educational programs at SelfDesign. "She is then able to use that to complete projects for her course work."
"I was simultaneously following my passion and learning things I needed to learn education-wise," Sierra says. "Taking measurements for building a chicken coop, keeping track of how much I fed my chickens figuring out my profits when selling the eggs, learning about biology through the chickens, mapping out gardens, and calculating fences. Learning has never been boring to me. I've loved learning because it has always been centred around my passions and allows me to develop my skills in those areas of interest. My learning consultants through SelfDesign offered me the freedom to develop new skills with support and space to grow in those areas."
What Sierra has done with that support and space to grow is remarkable and is evident in how she landed the opportunity to speak at TEDxYouth in October 2019 to begin with.
"In March, I went to a youth-focused global change-makers conference in Washington," she says. "I heard about the conference through Earth Guardians so me and a group of best friends went and did the keynote speech. We all went up on stage and told our stories. It just so happened there was a woman sitting in the audience who worked closely with TEDxYouth Seattle. After our speech, she came up to us and told us that although the application deadline had passed for the Seattle event, she thought we were incredible speakers and encouraged us to still apply. We had a couple of days to write the applications. It turns out I was lucky to be chosen as one of the speakers. I felt super grateful and excited."
Rather than having to divide her energy between keeping up with formal school work, and devoting herself to all that was required for the recent TEDx talk, Sierra was able to give herself fully to the project and have that learning honoured through SelfDesign.
"The whole process was incredible," Sierra says. "They gave me speaking coaches that helped me use my ideas and my writing – pulling out the best parts of it – to tell my story in the most effective way. The process helped me learn how to be a better writer and a better storyteller. The thoughts and words we speak to ourselves can be really impactful. Leading up to the event, I'd given myself so much positive talk. I knew I was going to rock it. I knew I was going to stand there in my power. And I did. When I got off the stage my coaches ran to me and told me how proud and happy they were for me."
"SelfDesign's flexible approach has allowed Sierra the time and space to create opportunities to share her message," said Nikki. "She is getting hands-on knowledge and truly making the world a better place in the process."
Sierra's TEDx talk called 'Beyond Sustainability – A Call for Regeneration':